Page 3 of 3 •

1, 2, 3

First topic message reminder :
lHey!!!
This is Bramblesky and Now the Rouges are asking the Kittypets to join them? What will the kittypets do?
Now since the second- in-command is free, who ever calls it first, gets it. But please leaders and deputies of real clans, please don't take the second-in-command, how bout a a warrior takes it? Thanks, and hope you enjoy!
Rules
No Godmodding
Unable to die
Powers
To kill other cats
And no spamming PLEASE!

Thanks
Fill out the forum below:
Name-
Gender-
Age-
Description-
Picture (optional)
Personality-
Kittypet or rouge?-
Siblings-
Crush (can be a rouge or a kittypet)-
Mate-
Kits-
Rank-
Location (Kittypets only, Rouges live in the alley. Close to Kittypets)-
Also rouges may have warrior names, but don't make it like,example, Duskheart look at mine, Stormspot
Mine:
Name- Stormspot
Gender-Female
Age- 20 moons
Description- Strong built she-cat, golden with gray spots and white paws, has beautiful gray eyes. Lean, strong, tall, and very attractive XD
Picture-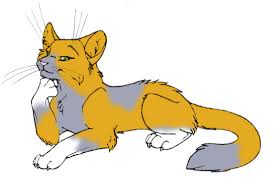 Personality- Not loving, Very self-mature, playful, and is only loving around crush and mate.
Kittypet or rouge- Rouge
Siblings- All died of hunger.
Crush-
Mate- N/A
Kits-N/A
Rank- Rouge leader
Location- In the alley where the leader is.
Name- Oreo (Becomes a rouge and is called Dusksky)
Gender-Male
Age- 12 moons
Description- White tom with brown splotches, handsome blue eyes, and a brown fluffy tail. Small, Strong, and handsome.
Picture-
Kittypet or rouge- Kittypet, agrees to be a Rouge and soon has a mate and kits
Siblings- None
Crush- Some rouge
Mate- N/A
Kits-N/A
Rank- Kittypet
Location- In a house at the edge of an alley.
Blaze if you join can you be one of there mates?

Bramblesky

Loner




Custom Rank :

Bramble in the Sky

---

WarriorPoints

: 2450


Posts

: 445


Reputation

: 34

---


Warrior Information


Attack Power

:

10,000



---
Night looked back."Don't come near my nest, all right?"He said, and continued to pad away.

Thunderclaw

WindClan Warrior





Custom Rank :

The Nightmare

---

WarriorPoints

: 4470


Posts

: 970


Reputation

: 843

---


Warrior Information


Attack Power

:

35,000



Stormspot hunvhed his shoulders. She turned to her mate slowly, her ears drawn back," What was that about?" Stormspot growled furiously.

Dusksky padded up," No need to argue, I can track down more," Dusksky looked at Stormspots," Get out of my sight!" Stormspot snarled.

Stormspot lashed her tail angrily then stormed away to her dumster. She cursed under her breath. Stormspot's claws flexed.

Bramblesky

Loner




Custom Rank :

Bramble in the Sky

---

WarriorPoints

: 2450


Posts

: 445


Reputation

: 34

---


Warrior Information


Attack Power

:

10,000



Page 3 of 3 •

1, 2, 3

---
Permissions in this forum:
You
cannot
reply to topics in this forum